Wow! What a couple of months it has been. I have enjoyed immensely travelling around this beautiful state of Tasmania, praying with people, praying for people, being prayed for, fellowshipping, swapping stories and eating! I have been truly blessed and encouraged by the people with whom I have gathered, and with whom I have shared and prayed.
I am now in the eighth and final week of my prayer pilgrimage, which means soon it will be time to take the "people@prayer" sticker off the red car and wash the red socks for one last time! (Well, until next Pentecost Sunday) 
The progress map below shows where I have been thus far as well as my visits coming up this final week.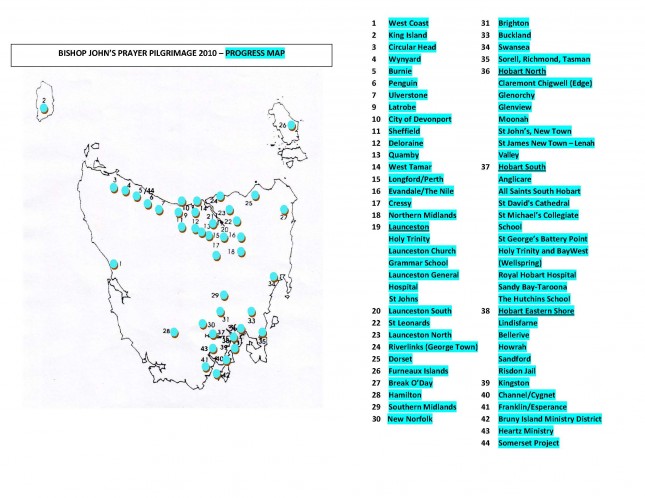 This week (starting Sunday 18) I will be visiting the Parishes of Lindisfarne, Cressy, Evandale/The Nile, Quamby,  Deloraine, Dorset, Break O'Day, Swansea, St David's Cathedral, as well as The Bruny Island Ministry District and The Hutchins School.
Keep an eye out for the next issue of the Tasmanian Anglican. I have asked some of the people to share their thoughts on the Prayer pilgrimage and I have also included a small portion of the photos I took on my travels.
The Conclusion of the Prayer Pilgrimage will culminate in a Service of Thanksgiving at St David's Cathedral, Hobart on Sunday 25 July, 2:30 – 4:00pm. This will also be a time of celebrating my and Gayelene's 10 years of ministry in Tasmania.
 Revd Robert Stanley writes,
Please continue to pray for Bishop John and Chris Sadler (his driver and prayer partner) as they travel around Tasmania serving God's church. Please pray for safety in their travel, faithfulness in their service and the love of Jesus in their hearts. Please also pray for our state of Tasmania, that God will unlock her shackles and see people turn to Jesus during this time of dedication and commitment to prayer.
 See Prayer Pilgrimage – week #3, Prayer Pilgrimage- week #4, Prayer Pilgrimage – week #5, Prayer Pilgrimage – week #6, Prayer Pilgrimage – week #7 and Prayer Pilgrimage Schedule. See also Prayer Pilgrimage Purposes & Prayer-final text, Pilgrimage launch – Pentecost Sunday, Prayer Pilgrimage is underway – PTL!, Visiting the prisoner-visiting Jesus, Prayer fuel: our corporate culpability, Praying 4 the heartbeat of God, Praying 4 Parliamentary Leaders, Pilgrimage within a pilgrimage, Sistine Chapel inspires prayer, and Prayer for Government.