The Prayer pilgrimage takes to: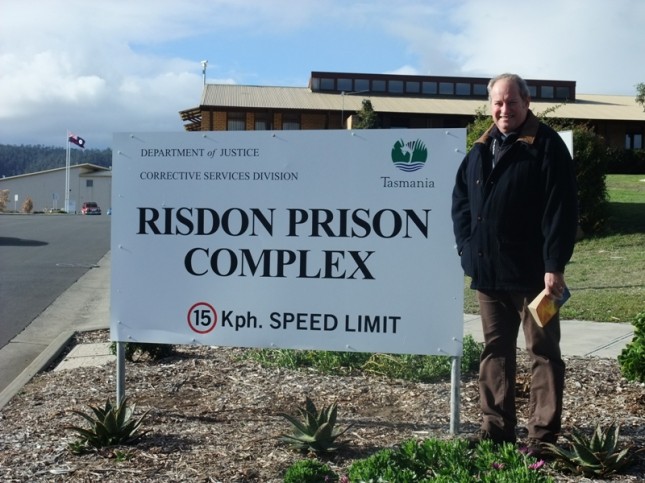 I was humbled at witnessing both service and suffering during my recent visit to the Risdon Prison Complex as part of my Prayer Pilgrimage.
The Service by the staff, volunteers and Chaplain Ross Duncan (above with Bible in hand). 
The Suffering by the prisoners at wrong decisions, the weight of life and separation from family and community life.
I thank God for this wholistic ministry to assist the prisoner and the dedication of corrective services' staff in their complex roles of rehabilitation and security. Witnessing the encouragement given by one prisoner to another was also a privilege. We are to pray and work, work and pray: to be 'People at prayer'. 
Jesus had a special heart for the prisoner and I shared this with some of the prisoners and staff.  See Jesus' encouragement and exhortation to us to visit and help the prisoner in Matthew 25: 31-46.   Note Matthew 25:37-40,
37 "Then the righteous will answer him, 'Lord, when did we see you hungry and feed you, or thirsty and give you something to drink? 38 When did we see you a stranger and invite you in, or needing clothes and clothe you? 39 When did we see you sick or in prison and go to visit you?'

    40 "The King will reply, 'Truly I tell you, whatever you did for one of the least of these brothers and sisters of mine, you did for me.'