My Prayer Pilgrimage around Tasmania is now in its fourth week  Chris Sadler (My prayer partner and driver) and myself have enjoyed being on the road meeting and praying with the people of Tasmania.
The map below shows where I have been so far in June.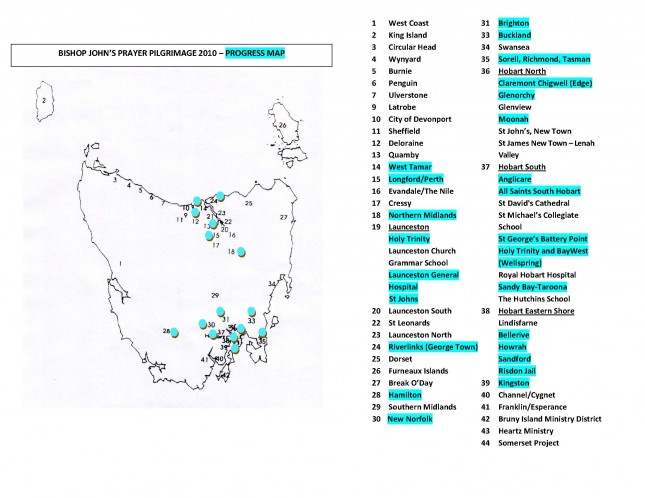 This week (week starting Sunday 20 June) I am visiting the parishes of Moonah, Bellerive,  West Coast, Wynyard, Circular Head, Burnie, Penguin and Ulverstone, and the Heartz Ministry project.
See Prayer Pilgrimage – week #3 and Prayer Pilgrimage Schedule.
Revd Robert Stanley writes,
Please continue to pray for Bishop John and Chris Sadler (his driver and prayer partner) as they travel around Tasmania serving God's church. Please pray for safety in their travel, faithfulness in their service and the love of Jesus in their hearts. Please also pray for our state of Tasmania, that God will unlock her shackles and see people turn to Jesus during this time of dedication and commitment to prayer.
See also  Prayer Pilgrimage Purposes & Prayer-final text, Pilgrimage launch – Pentecost Sunday, Prayer Pilgrimage is underway – PTL!, Visiting the prisoner-visiting Jesus, Prayer fuel: our corporate culpability, Praying 4 the heartbeat of God, Praying 4 Parliamentary Leaders, Pilgrimage within a pilgrimage and Sistine Chapel inspires prayer.