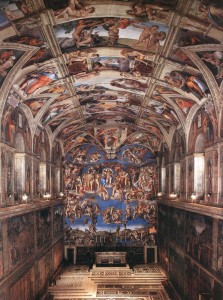 A marvellous gift from the Vatican: Michelangelo's artistic genius lavished upon the masterpiece of the Sistine Chapel is now viewable online!!  And it is just fantastic.
I remember visiting the Chapel and wanting to lie down on a movable trolley with a telescope in my hand so that I could drink in the Bible stories so vividly portrayed. As some hundreds of other people would have wanted to join me and the thousands waiting to come in would have been made grumpy, not joyful, this idea never bore fruit! 
The online facility allows the viewer to zoom in on all the parts of the Chapel. Be inspired by this extraordinary depiction of the story of God's love. It will lift your heart in prayer and praise to God.  View the Sistine Chapel.
Art, like music and drama and literature, form part of my 'equipment for prayer'.  What equipment aids your life of prayer?