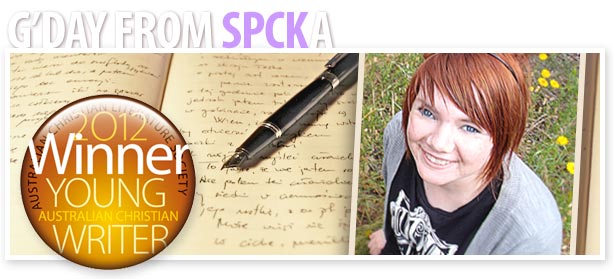 2012 Young Writer Awards entries close on 31 May
Do you know a creative teen or budding young writer? This could be their time to shine!
SPCKA loves to discover and encourage new writers of all ages and the Young Australian Christian Writer and Christian Teen Writer Awards are a great opportunity to unearth new talent.
Act quick as entries for this year's awards close on 31 May!
A $2500 prize is given for the best unpublished manuscript by an Australian under 30 years of age. Supplementary awards include a $1000 prize for writers under 18 years of age.
Entry Forms can be found at: www.spcka.org.au
You can also follow the Australian Christian Literature Awards on Facebook.
Pictured above: Amber Holmes, 2011 Australian Christian Teen Writer Award winner for her work entitled 'Sunshine'.
Telephone 1300 137 725
admin@spcka.org.au
Help us create life-changing and culturally appropriate Christian writing throughout the world.
Call us to make a donation today on 1300 137 725
Visit www.spcka.org.au today.
See also, Australian Christian Books of the Year!