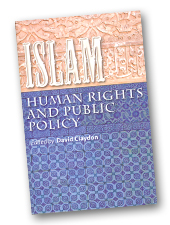 Having contributed a chapter on 'dialogue' to an Australian book seeking to engage in a healthy way the vexed issue of religion and public policy formation in Australia, I was delighted to read Christopher Bantick's review on page 6, Sundaybooks, Sunday Tasmanian, April 19, 2009:
"The Bishop of Tasmania John Harrower is a contributor to the important and timely book Islam: Human Rights and Public Policy, edited by David Claydon.
"The book argues appositely that Australians need to understand the world of Islam and vice-versa.
"To achieve this aim, Bishop Harrower explores in an article "Religious Policy, Multi-Faith Dialogue and Australian Values" just what an interfaith dialogue entails.
"Where this article, along with the book as a whole, is a necessary contribution to contemporary discourse in regard to relations with Islam is that Harrower contextualises this with Australian values. These can be as wide as an observance of the critical tenets of democracy and the place of mateship."