I enjoyed watching Bishop Undercover (Part 1) last Sunday.
I was delighted at the concern and commitment of Bishop Trevor Williams to understand the context of his mission to discover what people think about the role and relevance of the Church. [Note that he is an Anglican (Church of Ireland) Bishop in largely Roman Catholic Ireland].
His leadership in undertaking this exploration of his Diocese was encouraging. I enjoyed his quiet gentle manner and clear concern to listen and ask questions to go deeper into people's attitudes and practices.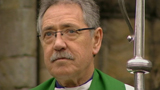 Program overview from ABC1: Bishop Williams presides over 16 parishes and 64 churches across five counties, but with just 3000 parishioners his church is facing a crisis of relevance. So, he ditches his Bishop's robes and goes undercover for a month, posing as a special TV reporter, to find out what people in his diocese expect from their church in an increasingly secular age. In Part One he helps prepare and deliver Meals on Wheels, joins a church-run Men's Shed and visits a school where students offer a frank critique of the church and its leaders. See, Bishop Undercover – Part 1.
I look forward to learning more from his undercover exploration of the role the Church in an increasingly secular Irish culture – this Sunday 22 July 6:30pm Compass ABC1 Bishop Undercover – Part 2
My 2010 Prayer Pilgrimage around Tasmania was very helpful to my ongoing exploration of our mission context in Tasmania. Info in Tasmanian Anglican magazine and my Pilgrimage diary Bishop John's blog. As I travelled I became convinced of Tasmania's urgent need for 3 'E's: Evangelism. Employment. Entrepreneurs. I continue in prayer, conversation and encouragement of these 3 Es.