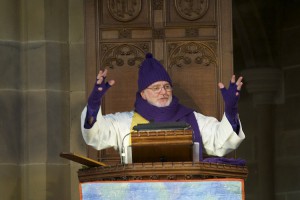 At our Farewell Service on 12 September 2015 at St David's Cathedral, I based my sermon on 'A Blessing for Tasmania' which I wrote for my Ordination Service on 25 July 2000.
The purple scarf, beanie and 3 pairs of gloves do form part of the sermon! – Farewell Sermon

Farewell Speeches at St David's Cathedral
Photo of Gayelene and I looking towards speakers – we are holding hands!!

Jeanne Wherrett gives thanks to God for Gayelene Harrower's ministry.
Gayelene responds
Audrey Mills and Paul Cavanough giving thanks to God for Bishop John's ministry.
Bishop John responds.
Bishop Chris Jones presents a gift and prays for John and Gayelene Harrower.

LAYING UP OF THE BISHOP OF TASMANIA'S PASTORAL STAFF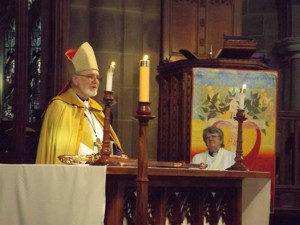 The Bishop's Pastoral Staff symbolizes the bishop's care/ shepherding of the Christian Family. Here, under the watchful eye of Archdeacon Helen Phillips, I am laying down the staff on the Lord's Table as a symbol of the conclusion of my 'shepherding' of the Anglican Family in Tasmania. The pastoral staff will be presented to the 12th Bishop of Tasmania at their Installation Service. In the background is the banner which captures from 'A Blessing for Tasmania', the ideas of God of Life, Light and Love.
ELVIS ENTERED THE (CATHEDRAL) BUILDING!!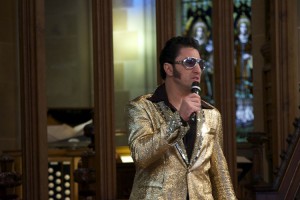 And to my delight Elvis made a surprise appearance at the conclusion of the Service!!! 🙂 Elvis had us all join in singing 'Amazing Grace'! Fantastic finale to a fantastic celebration of God's grace to us in Christ Jesus. PTL!
Note: I listened to Elvis singing Gospel songs as I drove around Tasmania. My often times travel companion, Paul Cavanough, took the opportunity in conjunction with Bruce Geeves, to gift us this amazing send-off. Thank you to all who arranged for this surprise. I have it on good authority that the Governor of Tasmania, Professor The Honourable Kate Warner, also enjoyed this surprise.
A BLESSING FOR TASMANIA
God of all Life,
Bless in abundance the lives of the people of Tasmania.
Enrich our society with relationships that deepen our common life.
Grant seasonal weather to our State,
And enable us, by your grace, to create life-enriching work for our unemployed.
God of all Life, bless Tasmania.
God of all Light,
Bless this State with leadership that is honest and caring.
Send the light of your wisdom on our work and our play.
Shine the light of your justice on all our dealings,
So that these islands may reflect your light in all the world.
God of all Light, bless Tasmania.
God of all Love,
Bless Tasmania with your love, in all we say and do.
Help us to love one another, as neighbours and friends.
Care for families whose young have left these shores.
And by your good Spirit, ignite our love for Christ.
God of all Love, bless Tasmania
In the Name of God: the Father, the Son and the Holy Spirit. AMEN.
'A Blessing for Tasmania' written by Bishop John Harrower
Ordination as 11th Bishop of Tasmania
St David's Cathedral Hobart 25 July 2000