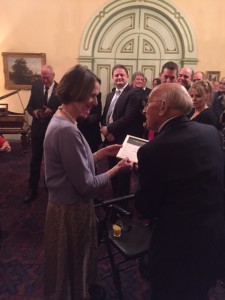 It is always good to celebrate 100 years! And we all love a party!
The Mission to Seafarers Hobart decided to party for their weekend of Centenary celebrations over 28 – 30 August. There were three main functions:
The first was the celebration of Jack Tomes' 78 years of volunteer service to the Mission. Yes, you read that correctly. Jack is not 78 years of age, he has given 78 years of his life to volunteering to assist Seafarers in  the challenges of their life at sea far removed from family for long periods. Jack was presented a certificate by the Governor on behalf of The Princess Royal (Princess Anne) at Government House, Hobart.
We were then treated to a Centenary Volunteers' Thank You dinner held in the Harbour View room of the Grand Chancellor Hotel. The view from this room was a Seafarer's delight. The food was great too!
Thirdly, we celebrated with a Centenary Service at St George's Church, Battery Point with a visit from the Governor and sermon from the Mission to Seafarers International Secretary General, The Reverend Andrew Wright. See if you can decipher the message on the cake.  I can't offer you some cake as a prize for the correct answer as there isn't any left – it was too good! 😀
If you are looking for a celebration cake, I can recommend Cakes by Grannie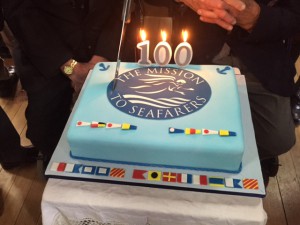 See also Mission to Seafarers