Burnout is not a single condition but a syndrome which can include numerous elements, including depression, and is typically marked by emotional exhaustion, detachment and a sense of lack of achievement.
 Geoff Read writes in his book, Ministry Burnout, How can sincere, motivated clergy find themselves at this point?
 Why does burnout happen to Ministers? Is it that they are 'weak' people, 'fix and please' people, is it their personality type, or are they simply working long and ridiculous hours?
 Israel Galindo urges clergy in Staying Put – A look at the First Ten Years of Ministry' to remember the value of a sabbatical year and the principles behind it. He calls year seven in a parish the year of 'recharge or burnout."
 No-one is superhuman enough not to take time out to rest from work or from people. We should follow the example of our Saviour, Jesus Christ, who would regularly took time to be alone and commune with God.  Very early the next morning, Jesus got up and went to a place where he could be alone and pray. (Mark 1:35)
 We need to be aware of the early signs of burnout and take steps to rectify it and take time to smell the flowers. Remember the old saying, prevention is better than cure.
Geoff has supplied a valuable tool worth looking at in Appendix 1: Am I in Danger of Burnout?  You can purchase your copy of the booklet, Ministry Burnout by Geoff Read from Grove Books Limited.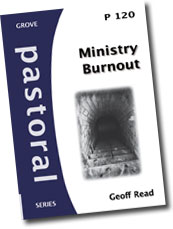 See also, Clergy: God's call?