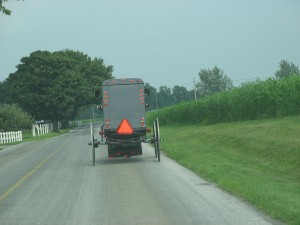 How to begin to express the delight and fascination of our brief time here in Lancaster County, Pennsylvania, among the Amish, Mennonite and wider community?
An intriguing first impression occurred when driving along a country road and there in front of us was an Amish horse and buggy. We travelled behind it for some distance, double line road markings maintaining our position and giving opportunity to ponder this meeting point of tradition and contemporary cultures.
The 'plain people', as the Amish are known, have adopted simplicity and separateness from worldliness to be held together in community as their expression of Christian faith.
Simplicity is seen in dress, diet, house design, transport and seating at worship on portable un-backed wooden pews.
Separateness is seen in dress, worship held in members' homes on a rotating basis, education to 8th grade only, adherence to a strict code of conduct that covers many areas of life, the practice of 'shunning' a member who disobeys the code of conduct and refuses to seek forgiveness, marriage within the Amish community and no electricity or telephones being connected to the house.
The family is the primary focus of their mission to make disciples of Christ and their farm work, mainly as dairy farmers, allows the family to live and work together. 'The family that works together stays together' is an expression used to capture this basic sentiment. Thus the children work on the farm and develop skills so that in time they can have their own farm or be employed in making furniture or building work.
Amish houses are of simple design and large double storied as they may have 10 or more children plus grandparents living with them. The grounds are immaculately kept including flower and vegetable beds. The latter stocking roadside 'honor stalls' where excellent fresh produce is on sale – we can vouch for the quality and flavor!
Education for their children takes place in small one room local schools from grades 1 to 8 with a teacher who is probably Amish or at least sympathetic to their faith. There is no more formal education as this would expose them to worldly thinking and ways that would undermine their way. The children then work with their parents until marriage and setting up their own farm and family.
We have been visiting and speaking with families and are spending this afternoon at the milking sheds with an Amish family. More encounters and ponderings to come.