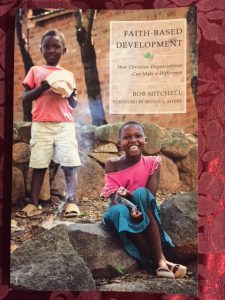 Of questions, there are many when Christians get together to discuss Faith-Based Organizations involved in aid and development.
Over the last year, I have heard;
When a Christian organization sends out Christmas cards with 'Season's Greetings' rather than Christmas greetings, has it lost its way?
When a Christian organization employs non-Christians to drive trucks to deliver emergency supplies has it lost its way?
When a Christian organization dispenses with Church volunteers in order to increase 'efficiency' has it lost its way?
Bob Mitchell has some questions of his own as he brings theology, governance and development practice together in his compelling, 'Faith-Based Development: How Christian Organizations Can Make a Difference', Orbis Books, New York 2017.
In an age of 'Fake News', Bob's data based research using interviews and focus groups from diverse geographical and cultural communities is a gift to truth-telling! Bob, we thank you! Your data based research strengthens your engagement with critical issues.
By way of example, while engaging with the vexed issue of a Christian aid and development organisation working in a Muslim context the research data allows us to hear Muslim and Christian voices. In Senegal, an open theistic society, it is said that it is "easier to speak to people of faith if you have a faith, even if it is different." and "once a Muslim sees that the development organisation is about prayer and spirituality, then a Muslim will say, "Now we can do business together."" (p.48)
Mitchell draws the conclusion that communities within theistic societies may have stronger resonance with an organisation from another faith when compared to secular agencies. (48)
Of course there are other contexts where a more closed and militant faith may work against cooperation in development.
The book is scholarly in its approach and wise in its reasoning as it draws conclusions on the nature of faith motivation, and the delivery and effectiveness of development.
*Full Address at Book Launch Melbourne: Faith-Based Development by Bob Mitchell Book Launch by John Harrower 6 April 2017