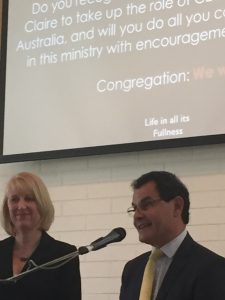 Address at the Commissioning Service for Claire Rogers, CEO World Vision Australia, Ridley College Melbourne 2016
Walking the talk, talking the walk, and living the heartbeat of Jesus Christ
I have been asked to give a 'sermonette'. Hence I will give my three sermon points, but no poem, no joke and no stories! I trust you will bear with me! J
Jesus Christ is the heartbeat of World Vision and we are to walk the Jesus' talk, talk the Jesus' walk and bring the life of his heartbeat to those in need.
God's love in Christ is extraordinary.
God entered history in the person of Jesus Christ who walked, talked and lived the heartbeat of God in the conflictive world of Palestine. Jesus walked the Kingdom journey of family, ministry, death, resurrection and ascension for us and continues in intercession for us today, indeed he is praying for us at this very moment! Precious thought.
The coming of the Holy Spirit empowers our own walk of faith in the complex and conflictive world of today.
We believe that the Holy Spirit has gathered us here today to commission our Sister in Christ, Claire Rogers for her walk, talk and life as CEO of World Vision Australia.
*Address is here: Claire Rogers -Commissioning CEO WVA Nov 2016 – 'Walking the talk, talking the walk, and living the heartbeat of Jesus Christ'
*Photo is of Claire Rogers with George Savvides, Board Chair, World Vision Australia
*More about Claire here, https://www.worldvision.com.au/about-us/our-ceo-claire-rogers *Print article 'Successor to Tim Costello brings digital focus to World Vision', page 12 of November 2017, The Melbourne Anglican (TMA). More info re TMA paper, here