St Jude's Carlton 1866-2016 – People of the Risen King – History 150 years by Elizabeth Willis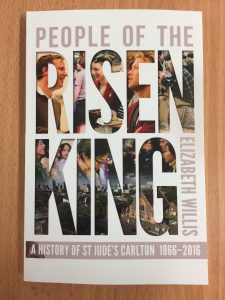 This history is a deft interweaving of Church and society through 150 years: St Jude's Anglican Church in Carlton.
Carlton's socio-economic conditions and demography, clerical and lay personalities, theological emphases, liturgical practice, the Melbourne Diocese, and national and international affairs are colourfully woven. Testing times, diverse personalities and ever-changing ministries all contribute to the life and mission of the 'People of the Risen King'.
The irony of writing of the seemingly endless struggle to make the parish buildings 'fit for purpose' at the very time it lies in ruins due to fire and a multimillion dollar building project is underway, is not lost on the author: a salutary reminder of the fragility and ongoing challenge of parish life.
The colour, vitality and ethos of St Jude's in an ever changing Carlton is brought to life in this insightful and inspiring history. The Parish's social work encompasses the 'free seats' of the nineteenth century and the Debt Centre of the twenty-first century: a wide embrace of society that is at no time loosened.
Carlton 'larrikins' blocking the entry of worshippers, the decline in attendance following the First World War, the depression, bulldozing to 'clear the slums', the building of Housing Commission estates, the opportunity to welcome 'New Australians', university ministry, discipleship training, parish partnerships and new congregations: throughout it all we see the faithfulness of men and women to the work of God.
A stimulating read: leave time for reflection along the way for this history is a reminder that through the changing circumstances of parish life the Church is the 'People of the Risen King'.
Thank you, Elizabeth Willis, for your fine work in bringing this parish history to us, and to the faithful saints of St Jude's Carlton, https://stjudes.org.au/