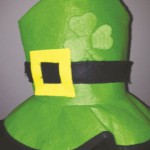 Here is my article from the April edition of the Tasmanian Anglican.
St Patrick's passion and ours
One of life's highlights was leading the St Patrick's Day parade through the crowds in Westbury, Northern Tasmania.
The organisers asked for me to dress in my full bishop's kit and so with pastoral staff, mitre, and my cope flapping in the wind we set off. Part way through I exchanged my mitre for a tall green Irish hat emblazoned with a shamrock. What fun!
This year there was less fanfare as I walked around Hobart wearing my St Patrick hat. I received some waves from passing cars and a few anxious looks from oncoming pedestrians!
Why do I wear my St Patrick hat?
My grandmother was Irish. I enjoy the fun of the day. I admire St Patrick.
Imagine at about 15 years of age being kidnapped from your home and enslaved in a foreign land. Not much fun! This happened to St Patrick (387-461). He was captured by Irish raiders and taken from his home in Scotland to captivity in Ireland where he herded sheep as a slave.
During his time in Ireland he saw the captivity of the pagan Irish to wizards, spells and Druids. He spent much time in prayer and his Christian faith deepened over these years. He also came to understand the culture of the people who enslaved him. This would be invaluable later in his life.
When he was about 20 he had a dream and escaped back to Britain where he was reunited with his family, a Christian family: his father was a deacon and his grandfather a priest. Patrick set to and studied the Christian faith.
Patrick's passion for Christ and his heart for the pagan Irish impelled him to return to Ireland as a missionary. He preached the Good News of Jesus Christ with its power to gain freedom from slavery to Druid's spells and freedom for life in Christ.
Patrick's mission to Ireland was blessed by God and thousands of people were baptised, places of worship established and whole kingdoms converted to Christ.
And our passion?
You can read more of my article here