This article from SPCKA is especially close to my heart and this was part of our ministry when we lived in Argentina: setting up a Christian publishing company so Christians could have access to more resources. Enjoy and be encouraged 🙂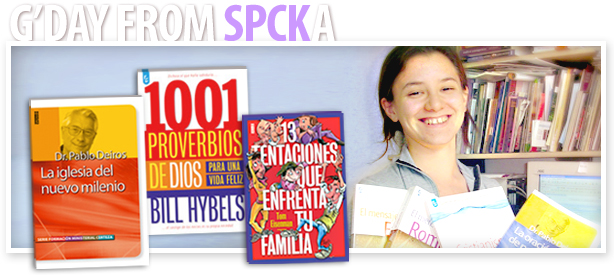 "I have always loved the way literature makes possible the impossible."
For several years Ayelen Horwitz has worked as an editor and project coordinator with Certeza Argentina. With your support, she will go to LittWorld in Nairobi at the end of this month.
Held once every three years, LittWorld is the only global conference for Christian publishers and a unique opportunity for networking, training and professional development.
Ayelen recently answered our questions about the challenges she faces in Argentina and her reasons for attending Littworld:
What is your vision for Christian publishing and writing in Argentina?
"Our government has approved same-sex marriage and is now reviewing abortion law. It is clear that our society is changing. Society is turning more individualistic and hedonist, but also more spiritually open. As Christians we need to understand how to be light and salt in this political reality as well as in the particular situations that families and people face.
"My goal is to make books of excellent quality, appropriate for Argentine society. To achieve this I need to continue to improve my skills and learn from others.
"I have always loved the way literature makes possible the impossible. Literature creates a space in which people can experience freedom, give meaning to their lives, educate and equip themselves, find help to overcome difficulties and feel accompanied. In short, books can change lives."
How might attending LittWorld 2012 be significant for you?
"I believe that training is essential to becoming more professional. It would be enriching to learn from the experience of others, but I don't personally know many Christians that are involved in editing and publishing. I think that meeting people who do the same work in a different context will give me ideas, hope and a sense that I am not alone. From shared difficulties, challenges and vision will come shared solutions and a common hope."
It will cost $2500 to   send Ayelen Horwitz to join more than 150 publishing professionals in Nairobi   at LittWorld 2012, the global conference for Christian publishers. Why not support Ayelen by making a donation today?
Call us on 1300 137 725 or email admin@spcka.org.au for details.
Photo: Ayelen Horwitz with a number of books published by Certeza Argentina.