'Fantastic, refreshing and vibrant. I was so glad to be part of it.'
'Quality, diversity, stimulation and encouragement. A great team effort.'
'I took a book to read in case I got bored. Silly me.'
This is what guests had to say about this year's Australian Christian Literature Awards.
Dramatic readings of prize-winning works, music by The ANSA, a talented teenage quartet and outstanding presentations by Stephen Scott and Stevie Wills left guests inspired, encouraged and deeply moved.
After taking home a certificate of participation from last year's awards event, Teen Writer Daniel Li stayed up until 2 am writing this year's winning composition. His piece, A Short Walk is 'raw and shocking but ultimately hopeful'. Read an extract here.
This year's Young Australian Christian Writer Award brought to prominence Launceston Examiner columnist Claire van Ryn. She told the audience that 'God is my inspiration, Every week he gives me new things to write'. She is a contributor to the Bible Society Live Light in 25 Words Bible Reading Campaign. Read a chapter from her winning manuscript, Faith Like a Mushroom here.
You can read the judges' comments on all shortlisted entries here.
Scott Stephens, ABC Online Religion and Ethics editor, called for the Christian imagination to challenge the privatisation of belief. "The law and the market cannot say 'that's good' or 'that's better' … they can only say 'back off, you are getting too close to each other'. The whole point of the Christian imagination is to give our society a choice to see that our future is to be mutually enslaved one to another. The task of the Christian imagination today is to demonstrate that 'you are not your own, you were bought with a price, therefore glorify God with your bodies'."
Through the veil of her cerebral palsy, Stevie Wills moved mountains:
You know my road is different.

Covered with rocks

Large, high, rough rocks.

…

I look across to your road,

It seems smoother than mine.

Less rocks,

Not so high.

I can see some though,

Some hard to climb,

Some you've tripped over and hurt,

Some there at every step.

But your road looks easier.

I don't envy your road,

I love mine.

Because I feel my need,

To lean on God,

Thus experience,

Know him.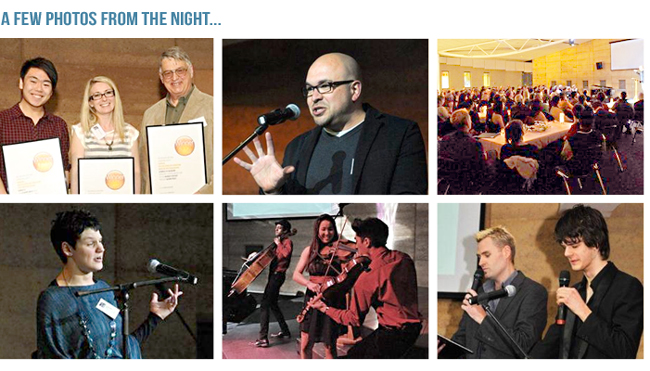 Photos clockwise from top left:
First Prize winners, Daniel Li, Claire van Ryn, Murray Seiffert | Scott Stephens on the purpose of the Christian imagination | The 160 guests at St Alfred's Church, Blackburn | Stevie Wills performs her poetry | The ANSA brings a classical string repetoire into the 21st century. | Actors Cale MacLaren and Ben Taylor perform an award-winning text.
More photos and links to media coverage can be found on the Australian Christian Literature Awards Facebook page. Also, Australian Christian Books of the Year 2012.

Telephone 1300 137 725
admin@spcka.org.au