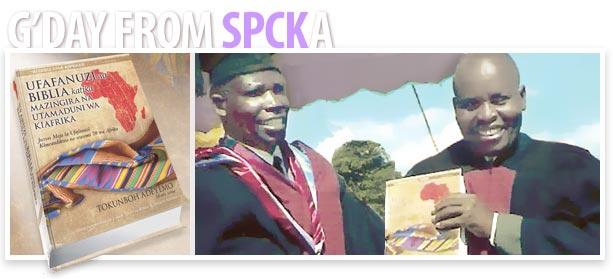 I am President of SPCK Australia and this literature mission encourages Christian ministry around the world. A recent example:

Weapons of war 'For over twenty years I have preached using the Bible alone. But now, thanks to SPCKA, this useful book will help me grow in Bible knowledge and make disciples of Christ.'Pastor John Karuu received his Swahili edition of the Africa Bible Commentary during our graduation ceremony with tears of joy. 'This gift fulfils my long-time dream. It is my weapon of war.'Such books are not accessible to pastors, especially in this isolated part of Kenya. The provision of this valuable reference is considered a miracle by our graduates and will transform their ministries.Lack of good Christian literature is becoming a great hindrance to church growth and evangelism. We are deeply thankful to SPCKA and those behind this donation of fifty commentaries and pray they will continue to support us in this way as the need for books is great in this place.

In His exciting service Peter N. Ibui Principal Word of Life Bible Training Centre

Read more stories from our partners in difficult places in our Autumn 2012 Newsletter.