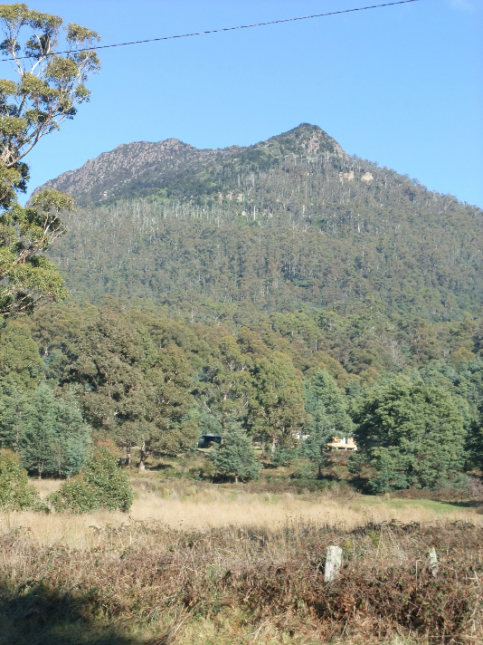 Today on my Prayer Pilgrimage I drove past Quamby Bluff (see photo above) and I recalled an episode in Bishop Montgomery' s ministry conducted there. This, in turn, reminded me of two fine addresses given at launches of the outstanding biography of he and his wife's time in Tasmania – Montgomery of Tasmania: Henry and Maud Montgomery in Australasia by Robert Withycombe, Acorn Press. 
Professor Tom Frame's speaking notes from the Canberra book launch of Montgomery of Tasmania are certainly a good read. He writes,
 You might be lulled into thinking that Henry Montgomery, the Bishop of Tasmania from 1889 to 1901, was worthy of a biography because one of his sons became Viscount Montgomery of Alamein, one of the most celebrated British soldiers of the twentieth century. But you would be wrong in thinking this. Henry Hutchinson Montgomery lived a full and active life that deserves to be remembered for what it revealed of God's grace in an individual's life, what it conveyed about the life of a missionary bishop in colonial Australia, and what it reflected of Anglican attitudes to religious and everyday life. Allow me to say a few words about the subject, the author and the book.
Read more: Tom Frame's notes are available here.
Associate Professor Stuart Piggin's notes from the book launch at St Andrew's Cathedral Sydney (16 November 2009) are well worth the read.
What are the themes of the book? Robert seeks to explain Montgomery's understanding of his own role as bishop in terms of the need to shape the Church of England in Australia into a missionary church. This necessitated his own acting as a missionary, albeit a missionary bishop. It also required recognition by the leaders of the Australian church, especially the bishops in general and the Primate in particular, that they must be aware of their national responsibility for mission. In this the Church should engage with passion and sacrifice. Montgomery's paradigm of Colonial Anglican episcopacy was a missionary one, and his answer to the party strife which pitted diocese against diocese was to get all – High, Low, and Liberal – to engage in mission.
Stuart Piggin's notes are available here.
See also 'Montgomery of Tasmania'– My Commendation for the Publisher.