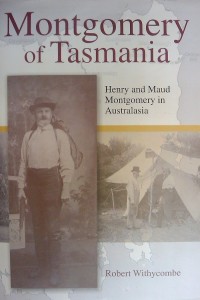 Revd Will Briggs recently wrote a stimulating book review on 'Montgomery of Tasmania' by Robert Withycombe, Acorn Press, here are some excerpts,
 Montgomery was a man empassioned by the mission of the gospel of Jesus Christ. Into a pre-WWI world of colonial fervour he contextualised and embodied this gospel meaningfully and zealously. I look back on that era a century ago and I can see the fruit of his and so many other's labours. So many of our buildings and organisations were in foment in that pioneering era. It is cause for great affection and respect.

In this book we are given an insight into that passion and heart. To read about a Bishop demonstrating a real and living gospel, holding a roadside confirmation while walking near where I would spend my own childhood ninety years later stirs the soul (Page 88).

 There is something to aspire to in the eulogising words of a "Mercury editorial on the day before he departed… 'He has met the swagman on the road, and has talked to him, not as the Bishop of Tasmania, kindly condescending to notice an inferior, but as one man speaking to another, with the same earth to live on, and with the same God above them.'" (Pages 266-267)

Whenever we study our forerunners we have cause to grip more tightly to those things that are eternal and to loosen our grip on those things that so evidently will fade as grass. . . . That is the case of this excellent book. It is good to find a forerunner so close to home.
 Thanks, Will. My related blog posts Mongtomery of Tasmania Book Launch,  My Commendation for the Publisher and Media Release- Mutton Bird Bishop.