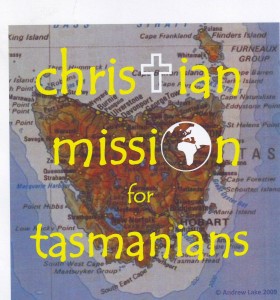 Revd Andrew Lake wrote "Christian Mission for Tasmanians" as a study for a unit on mission for the Tasmanian Certificate of Theology and Ministry. Andrew and Pam have just been commissioned by CMS –Tas to pastor at All Saints Community Church in Damascus, Syria.
The study seeks to address two questions: "How did we stop making disciples?" & "How do we start making disciples?"
Andrew writes,
The aim of this study is to help you to get a better understanding of the privilege and task of mission which God has entrusted us.

My hope and prayer is that this study will help put mission front and centre of the church's agenda.

This material is aimed to help Christians in Tasmanian churches to make disciples.

There are three ways to use this material. The FIRST is to study it in a home group using the questions at the end of each chapter. The SECOND is to read and keep it for reference or pass it to a friend. The THIRD is to respond to the "Think about" sections with written answers and thus complete a unit of the Tasmanian Certificate of Theology and Ministry.
The study covers a wide range of topics. The chapter headings give you a glimpse:
Loving Tasmania
Loving God
A Great Sadness
Back to First Principles
Matthew Chapter 28: Jesus' Great Commission
Jesus the Disciple-Maker
Tuned in to Mission Control
Acts: chapter 21 to 28: a Good Start
"Acts Chapter 29": From Paul to the Present
The Development of Christianity in Tasmania
Lessons learned from 2000 Years of Christian Mission
"Acts Chapter 30": The Great Commission here and now
Appendix: Two Different Attitudes to Mission
 This study is a gift to the Tasmanian church. It is freely available on the diocesan website  but you are invited when you use it for personal or group study to make a donation of $10 per person to the Church Missionary Society of Tasmania. Make out cheques to 'CMS Tasmania' and send to CMS Honorary Treasurer Rev Craig Arnold c/- 5 Dallas Street Taroona 7053.