The Minister for the Environment, Heritage and the Arts, the Honorable Peter Garrett AM MP was in attendance at St David's Cathedral (Tuesday 13th October) for an important heritage funding announcement.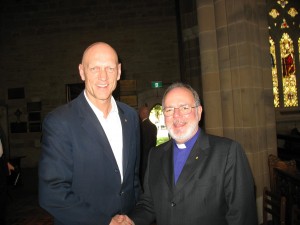 $1.6 million has been granted for the enhancement and maintaining of St David's Cathedral. This is further to the 1.5 million granted in 2008. Hon Peter Garrett stated that the funding will complete the conservation project. He was also impressed that $600,000 has been contributed by the community to the conservation works.
The Hon. Peter Garrett spoke of St David's as being a place of worship that has meaning and significance to the community. He recalled from his recent visit, the crucial role that the Cathedral has played in the City of Hobart, the importance of the site from the colonial years and noted that the conservation work will allow improved engagement with the community.
The Hon. Peter Garrett inspected the recent improvements with Mr Paul Davies (Architect) followed by afternoon tea, supplied in abundance by the St David's hospitality team.