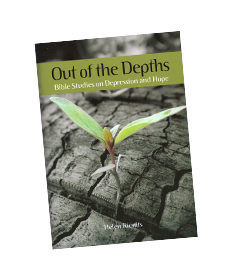 This study book, "Out of the Depths" by Helen Rienits, may not be at the top of the list for many small group leaders – but that would be a mistake.
There are probably more people than we are aware of who suffer from various degrees of depression. In addition, others struggle with anxiety, stress, or insecurity. These studies are written for these people, and for those who seek to care for them.
It is also a great resource for addressing the struggle of living in a world that includes suffering, and how it fits with the character and acts of God. As such, it can provide Christians with a biblical framework for talking to friends who aren't Christians and lament the harshness of life.
The book includes eight studies on topics such as:
Where am I? What's wrong with me?
What happens if I can't cope anymore? Will God forgive me?
Why don't others understand me?
Helen Rienits, an Aussie general practice doctor, includes helpful hints for running the group, notes for the study leader, and a bibliography with additional reading material. This means that a Christian can feel confident about using this book with a group of people.
The studies are very comprehensive, including medical information, well crafted discussion questions, encouragements, and practical suggestions. Importantly, each study is based around a passage from the Bible which participants look at together and discuss. It is very accessible, yet also addresses to the main issues in an approachable way.
I found the book to be stimulating, challenging and informative for my own life. I would be excited to explore it with a group of people, and see how God might work through it to bring about transformation in people's lives, and build a healthier, more loving, church.
It is available from Acorn Press.
Book review by guest blogger, Kate Harrower.