On Sunday 28th February we celebrated the first sermon preached on Tasmanian soil and the first Church built in Tasmania, as part of the Big Day Out service of St David's Cathedral.
We started off walking from the Cathedral to Hobart Town Hall where the first sermon was preached  by the Reverend Robert (Bobby) Knopwood on 26th February 1804.  On one of the columns at the Town Hall there is a plaque commemorating this significant event in Tasmania's Christian History.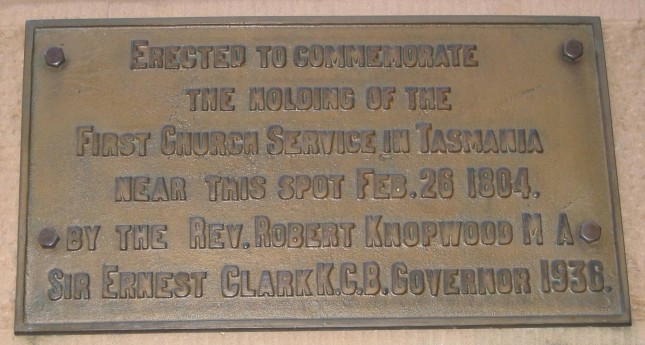 At the Town Hall we prayed,
Gracious God and Lord of history,

at this site of the first Church service in Hobart held in the open air we rejoice in Jesus' promise that whenever and wherever we meet in Christ's name he is with us.

We thank you for all faithful ministers of your word and sacraments in Tasmania past and present.

Raise up more workers to serve in your harvest fields in all areas of this state, so that all may hear your call and praise your grace and glory.

In Jesus' name we pray. Amen.
 The next stop was  St David's Park where the first Tasmanian Church building was located. If you have been to the park and stood by Lieutenant Governor David Collin's headstone (where he was buried in an huon pine casket), that's where the church was located. It was built in 1810 and blew down 2 years later. St David's Church (named in honour of Lieutenant Governor David Collins) was rebuilt in 1817 where St David's Cathedral now stands.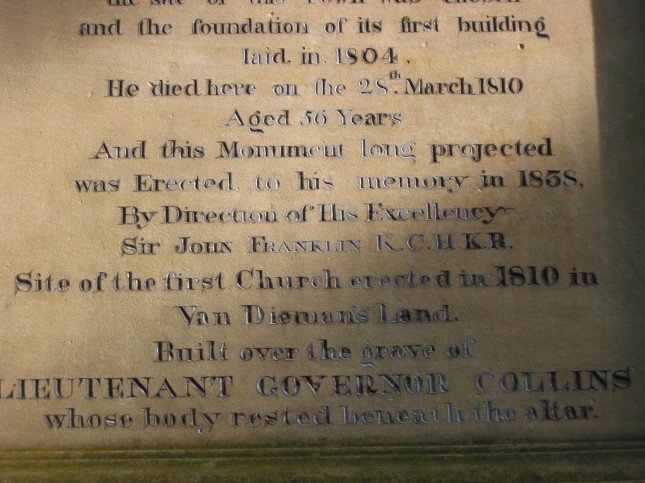 We prayed at the site of the first Church,
Faithful God, and Father of all your people, at this site of the first Church building in Hobart we thank you that while Church buildings may come and go you will never leave or forsake your people.

We pray that you would bless all congregations in Tasmania that gather in your Son's name that they may use all the gifts you have given them by your Spirit that they may be healthy churches, transforming lives.

We pray knowing that you are able to do immeasurably more than all we ask or imagine according to your power at work in us, to your glory in the Church and in Christ Jesus throughout all generations, for ever and ever! Amen.
The Old Rokeby Historic Trail gives more information about Reverend Robert Knopwood's time in Clarence Plains (Rokeby). Brochures are available from Clarence City Council  or see Old Rokeby Historic Trail and The Tomb of Reverend Robert Knopwood.
See also St David's Cathedral – Procession Prayers from the April issue of the Tasmanian Anglican.