St Matthew-in-the-city (Auckland, New Zealand) have caused a worldwide stir with a billboard showing Joseph and Mary in bed, titled "Poor Joseph. God was a hard act to follow."
The billboard went up last Thursday and was defaced with brown paint within five hours. The Australian morning news show, Sunrise, aired a story, "Bible Bedroom Billboard" and posted a web article "Judgement swift for church's saucy billboard. Have your say", the next morning.
The church writes on their website their purpose in putting up the billboard,
To invite people to think about the virgin birth and the nature of God.
To say that there was more than one Christian way to think about the virgin birth and God.  Indeed there are many.
To promote the Progressive view of Jesus having 2 human parents and God being the power of love in his life.
To ridicule the very literalistic view that God is a male and literally sired Jesus.
To invite people outside of the church to see a type of Christianity here at St Matthew's that they might be able to relate to.
People are certainly talking about the billboard. As with all issues you have people cheering on this approach to getting the Christian message out, and then you have those who are truly offended by this type of  'advertising" and feel it is very inappropriate.
This political cartoon taking the mickey out of the billboard suggests it has people's attention.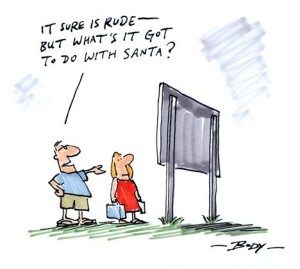 The church website claims,
To make the news at Christmas it seems a priest just needs to question the literalness of a virgin giving birth. Many in society mistakenly think that to challenge literalism is to challenge the norms of Christianity. What progressive interpretations try to do however is remove the supernatural obfuscation and delve into the deeper spiritual truth of this festival.

Christian fundamentalism believes a supernatural male God who lived above sent his sperm into the womb of the virgin Mary. Although there were a series of miraculous events surrounding Jesus' birth – like wandering stars and angelic choirs – the real miracle was his death and literal resurrection 33 years later. The importance of this literal resurrection is the belief that it was a cosmic transaction whereby the male God embraced humanity only after being satiated by Jesus' innocent blood.  – Archdeacon Glynn Cardy, Christmas theologies and billboards
Our Dean of Hobart, The Very Revd Richard Humphrey, comments on this,
It is to my mind profoundly wrong as it claims the fundamentalists believe a male god impregnated Mary with his sperm, a highly pagan idea and I know of no Christian  in history who would think this and it has been rejected by orthodox Christians throughout history. Biblical Christianity believes in a virgin birth not a 'sex with a god' birth.
Personally, I believe the billboard sends any Christmas conversation completely in the wrong direction by attacking a non-existent view of the incarnation. The billboard  does not deal with what lies at the centre of God's coming to be with us. It is inept and unchristian. Unhelpful, one would have to say; particularly at Christmas time. 
Recent developments: The church replaced the billboard, but there was a second attack, this time by a Christian wielding a knife. The billboard was later ripped down by "fanatics" and the church said it will not be replacing it. Let me be clear: this violence is wrong.
My experience of this earthly life is that aggression and violence beget aggression and violence. An aggressive billboard promotes aggression. It does not promote the Prince of Peace.
PS  Controversy is not evangelism.