The rural lifestyle of the Amish and Mennonite communities is very attractive. The fact that they live in a rural setting epitomizes the value they place on 'connectedness' with the soil, family, community and God.
Homes are large to accommodate the 7 to 12 children plus grandparents. This of itself allows for significant social interaction and the support and learning. Barns, silos for winter corn feed and out-buildings add to the size of the establishment – normally about 100 acres. Dairy cattle and horses and mules share the barn during the snow covered winter months. One of our party was particularly taken by the mules. They were large, 17 to 18 hands, and in magnificent condition. A special visit was arranged so that we could pat a mule – the things you do 🙂
The whole family works on the farm together. The children learn in apprenticeship style the skills needed to live both from the produce of the soil and as God's people separate from worldliness.
'Worldliness' is immorality, Godlessness, individualism, pride, selfishness and consumerism. In order to avoid these destructive influences on their calling to be a separate people holy unto God, the Strict Amish and Mennonites have no electricity, telephones, radios or televisions in the home. [sometimes a telephone is installed in an out-building]
Dress codes bring uniformity, modesty and binds members to the group. Men grow beards at marriage or at 40 years of age for a bachelor. Dress codes free the Amish from materialism and choice, thus demonstrating 'Gelassenheit'– 'submission' to the church and God.
The horse and buggy enacts the life of separateness from the world, the shelter and the unity of the family, their connection with nature and hence dependence on God's provision, and it prizes patience and humble work as opposed to quick and easy convenience.
In addition to the major crops and produce of the farm, a vegetable garden is maintained for family needs. The children earn some extra money by setting up a daily, except Sunday, roadside food stall with tomatoes, cucumbers, apples, green capsicums, etc.
One-room schools for the Amish children studying grades 1 to 8 dot the countryside. Usually a young single Amish woman who has finished year 8, teaches the students. Separate from non Amish, their education maintains traditions and values. Emphasis is on practical skills and English language as Pennsylvania German is spoken at home, in worship services and among the Amish community.
Amish quilting is a skilled art form of international renown. Quilting is displayed throughout Lancaster County and we marveled at the diversity and beauty. What a temptation to buy such gorgeous covers – put in our path by our Amish sisters!
Amish Country News is an interesting website with news, photos, events and links to longer articles about the Amish community in Pennsylvania.
A Joyful Chaos is an easy to read blog from a former Amish woman who answers some common questions about the (Old Order) Amish.

Amish houses are large – for large families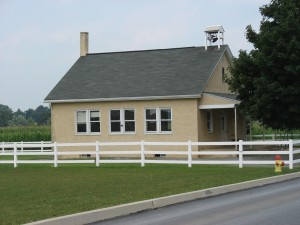 One-room school for the Amish children grades 1 to 8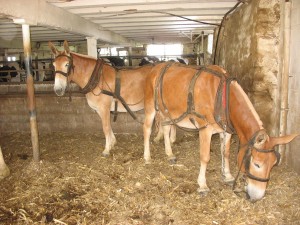 Mules are magnificent, 17 to 18 hands, working animals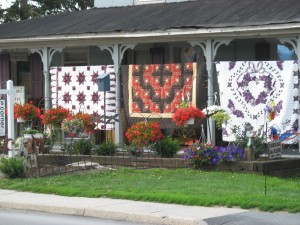 Quilts are diverse and a delight to the eye