Trouble In Amish Paradise was aired on COMPASS ABC Television on 12 July – just before we left for Pennsylvania.
The program relates the contemporary story of two Amish families from the traditional or 'Old Order Amish' who began to question the rules that governed aspects of Amish life. The families were both excommunicated and 'shunned' by their church. See a note on 'shunning' at the end of this article. One Amish family particularly captured our hearts and prayer through the illness of their young daughter, Marie.
We had thought how wonderful it would be if we could visit this family, Ephraim and Amanda Stoltzfus, in order to bring them greetings from Christians in Australia and the knowledge of our prayers.
Through the most amazing set of divinely directed connections we have been greatly blessed in finding and visiting Ephraim, Amanda and the family here in Lancaster County, Pennsylvania. We had a most uplifting time encouraging and learning of following Jesus in very different cultural settings. The way in which we struggle to identify the Gospel and yet to live it appropriately in its cultural context is an ongoing challenge.
Marie, their daughter, is in the final months of her chemotherapy and the family asks for prayer that the treatment is successful. Since the documentary Amanda has given birth and it was special to see how Marie delighted in and is so proud of her new little sister. We concluded our time together in prayer.
As we left, Ephraim and his eldest son were preparing to go into the city to do street evangelism. What a passion to see people come to Christ! PTL!
Testimonies of both the families and information about the new church Ephraim , Amanda and family are attending, can be found at http://www.troubleinamishparadise.com/home.html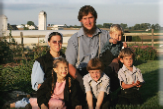 Ephraim, Amanda & children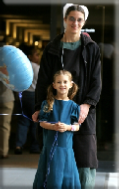 Marie with mum, Amanda
Note on 'shunning'
'Shunning' is a means of maintaining and encouraging holiness by excommunicating members of the church who sin and refuse to repent. See 1 Corinthians 5. Shunning is part of the Dordrecht Confession of Faith (Mennonite, 1632) which was adopted April 21, 1632, by a Dutch Mennonite Conference held at Dordrecht, Holland. This forms the doctrinal basis of these two Anabaptist groups; remembering that the Mennonites formed in 1525 and the Amish grew out of the Mennonites in 1693 with a stronger emphasis on shunning. The relevant Dordrecht Confession Articles are XVI. Of the Ecclesiastical Ban, or Separation from the Church and XVII. Of Shunning the Separated.
A danger of shunning is that certain behaviours may be grounded in tradition rather than the Scriptures. Then tradition rather than grace becomes the hallmark of Christian community. Outward conformity covers inward dryness and can even accentuate the drying process. See testimonies above.