We had a marvellous Sunday worshiping with Amish Mennonites and then visiting for lunch with the most gracious and warm family of Ivan and Ruth, their nine children, and grandparents.
But first, back to the 9am Sunday worship service. We were met near our B&B by the sons of Ivan and Ruth and led by car to the Amish Mennonite meeting house where men, women, boys and girls in traditional 'plain dress' were entering from the car park; about 100 in attendance. The carpeted meeting house had a large fellowship area and a worship area with rows of wooden pews with backs (not like the backless Old Order Amish pews).
We were met warmly at the door by Ruth with whose family we had spent the previous afternoon. Her husband, Ivan, a minister of the church was already seated having led the 7.30am baptism preparation class. The friendliness of people was evident. Although we were assured that we would be welcome to sit together, we decided to follow local custom: Gayelene sat with Ruth and the women while I was ushered to a pew on the men's side.
The service began promptly at 9am when one of the men called out a hymn number and we all reached for the hymn books grouped in threes on the back of the pew in front. Everyone remained seated. The man who called the hymn then sang the first few words as the men joined and then the voices of the women soared in stirring song. No instruments were used. We sang five hymns, each one called by a different man; about 20 minutes.
During the last hymn four men entered the front area and sat behind the pulpit. The bishop, leader of the church congregation, welcomed all present including the guest preacher who was to speak on women's head covering/veiling. We had been alerted to this and Gayelene had worn a scarf to respect the meeting.
The bishop gave a 25 minute devotional. The guest preacher then brought the message from 1 Corinthians 11:1-16 on women veiling as a symbol of God's order of authority. Following the 45 minute message there was a time of testimony.
When prayer was announced we all partly stood, half-turned to face backwards and knelt with our hands resting on our pew seat. I found this movement very helpful in literally and spiritually moving into a new space to come humbly before God.
Eight young people stood before the congregation and each gave testimony as to their commitment to Christ and why they wanted to be baptized. They then left the worship area and two ministers went from member to member seeking their agreement to the baptisms and thereby the young people's admittance into membership of the church. A significant time: very solemn.
Following the service the bishop shared with me the challenge posed by technology which makes families independent of each other and therefore threatens their connectedness; their church community. They have always worked together and indeed needed to work together. Amish had said to me, 'the family that works together stays together' and here I was hearing a further significant aspect, 'the community that works together stays together'.
Their hospitality was most generous: we received three lunch invitations!
What a challenge to our own church: how many invitations do visitors at Sunday worship receive to lunch? One? Three? Or . . .?
Lunch at Ivan and Ruth's home was literally one big happy family as we sat down at one table with Mum and Dad and their nine children. We had spent time with the family the previous day, arriving in time for the afternoon milking. We also saw turkeys being grown for Thanksgiving Day, corn crops and storage of the feed corn in silos to be used over the winter months when snow covers the ground.
Conversation roamed over life in Australia, life in the Amish Mennonite community and about what faith in Jesus means. The theme of Gospel and culture continues to fascinate me and exercise my discipleship.
And to top it all off we said farewell to Ivan and Ruth as we travelled in a genuine Amish horse and buggy with John & Naomi, the 'New Order Amish' couple that befriended us two days earlier and introduced us to their daughter Ruth's family. Photographic proof follows!
We are so privileged to share in Christ's fellowship.
Ruth & J. Ivan – corn crop in background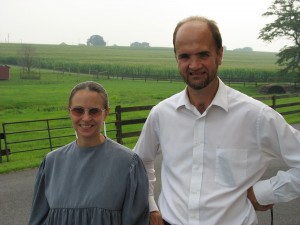 Horse and buggy with John & Naomi, the 'New Order Amish' couple that befriended us two days earlier and introduced us to their daughter Ruth's family.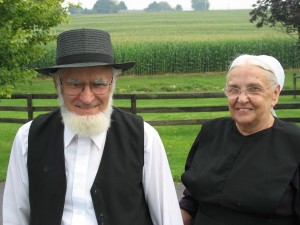 .