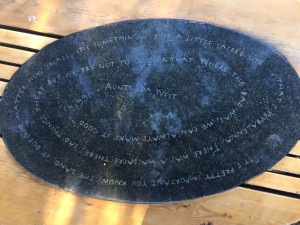 I spent time Thursday afternoon of NAIDOC Week 2015 at Wybalenna on Flinders Island, Tasmania, and reflected on the terrible tragedy of the indigenous suffering, dispossession and death.
The challenging words of my beautiful sister and Elder Aunty Ida West continue to inspire my commitment to peace making and reconciliation.
"It's pretty important you know, the land, it doesn't matter how small, it's something … just a little sacred site … that's Wybalenna.  
There was a massacre there, sad things there but we try not to go over that.
Where the bad was, we can always make it good".
1995 – Aunty Ida West.
[Words from the inscription on the table in the 'Aunty Ida West Healing Garden' at the Wybalenna Chapel. See following photograph.]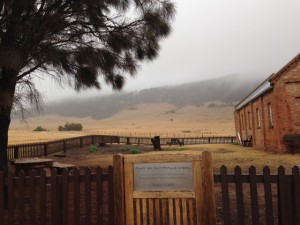 See also, Liturgy of Reconciliation  and  Reconciliation Week; 'See the person, not the stereotype'  and  Celebration of Reconciliation   and  The Water Ceremony  and  Ecumenical Reconciliation Service.