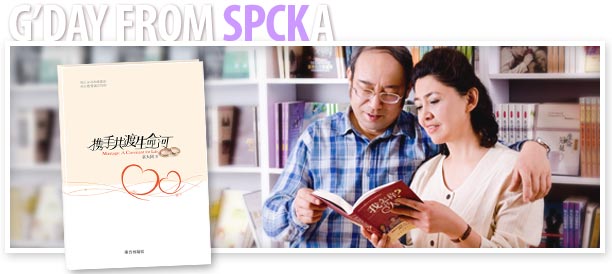 A Heart for Influence
Andrew Yuan Da Tong is possibly China's most famous proponent of marriage and parenting. He has been in ministry since the 1990s and our partner in China, ZDL Books, are proud to be long-standing supporters of Andrew. Supporters of SPCKA have recently assisted in publishing, promoting and marketing 10,000 copies of Andrew's most recent book on marriage entitled Marriage, a Covenant for Life.
Andrew's primary goal is to influence leaders, to share with them that their marriage is a reflection of their spiritual life and has a direct correlation to a healthy family and church. For many Chinese pastors, this is counter-intuitive. The perception is that ministry and service to the church come above their responsibility to their wife and family.
This year alone, Andrew has conducted training sessions for over 1200 people. He has spoken at the invitation of both the TSP (Three Self Patriotic Movement) church and the Family churches, and recently has been asked to teach at Yanjing Seminary, one of China's largest seminaries.
Some responses from pastors:
"This content is not from overseas. This is heartfelt and your teaching really touched us"
Pastor from Anhui Province
"We have never heard this before. When can you come back again?" Pastors from Wenzhou
Please pray for Andrew and his wife Erling's health and ministry as they increasingly devote themselves to sharing this desperately needed message.
PHOTO: Former corporate executive and training consultant Andrew Yuan Da Tong and his wife Erling and Andrew's book Marriage, a Covenant for Life.

As President of SPCKA I encourage you to help create life-changing and culturally appropriate Christian writing throughout the world. Visit www.spcka.org.au today.