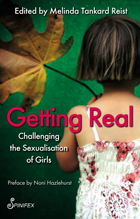 As the contributors to this book demonstrate, women are instructed from an early age that their value stems from their sexual allure and availability. No longer are young girls aspiring to a place in parliament or to shatter the glass ceiling in their local law firm. Nowadays, they are taught that real girl power is acquired in the bedroom. From their peers, the media and other social authorities they are learning to prostitute themselves (metaphorically and literally) in the hope that in return they will receive love, intimacy, social acceptance and attain the happiness that is supposedly acquired with the perfect body (and outfit to match).
See the Review and Reflection from New Zealand by Pauline Cooper, a graduate of the University of Auckland with an interest in radical histories on the Australian study: Getting Real: Challenging the Sexualisation of Girls, by Melinda Tankard Reist (Editor); Spinifex Press, September 2009.
See also the Review and Reflection from Tasmania by Kate Boughton who attended the Tasmanian Parliament House launch of this ground breaking Australian study.